Royal Caribbean International has launched its first ever 'Wow Factor' travel agent competition which will see the trade strut their stuff in a 'dance-off' onboard the Independence of the Seas.
The compition is in-line with the current 'Designed for Wow' campaign. The Royal Caribbean sales team has created a dance routine and are asking agents to follow in their footsteps by creating their own version of the dance.
The promotion is designed to help drive trade sales and enthusiasm around Royal Caribbean's new campaign. Royal Caribbean is asking agents to send in short videos of themselves recreating the sales team's dance moves and is encouraging them to post their own videos to the cruise line's dedicated travel agents Facebook page.
Video entries can be uploaded to Facebook between March 1 and April 14 and agents will be able to vote for their favourite submissions until April 29.
During the promotion period, the Royal Caribbean sales team will also take part in sales visits, equiped with props such as sweatbands, leg warmers, visors and a video of the dance routine to get the trade excited about filming their own versions.
Agents can also view the sales team's dance routine on cruisingpower.co.uk and via Blippar technology on new 'Designed for Wow' flyers, detailing the competition.
The top three finalists with the highest number of votes will get the chance to take part in a live dance-off onboard the newly revitalised Independence of the Seas in Southampton on May 4, where one overall winner will be awarded an exclusive prize to be revealed on the day.
Nicki Tempest-Mitchell, head of trade sales at Royal Caribbean International, said: "Whether it be bringing the magic of Broadway to the Caribbean or turning imaginary friends into best friends with the Dreamworks experience, Royal Caribbean's ships are Designed for Wow and that is what we're trying to communicate with our new ad and accompanying Wow Factor trade promotion.
"We're expecting to be inundated with a host of weird and wonderful submissions and are confident that agents will get behind this competition with their usual enthusiasm.
"My advice to agents is 'grab your dancing shoes, channel your inner Fred Astaire or Ginger Rogers and make yourself known by posting a video to our trade Facebook page'. Who knows? You might end up dancing yourself onto the newly revitalised Independence of the Seas!"
Always wanted to give someone a gift they'll never forget? Well for a limited time, you can give the gift of a Royal Caribbean cruise for a future birthday, holiday or anniversary with Royal Incentive Rewards cruise certificates.
From November 1 until December 15, 2012, you can buy Royal Incentive Rewards certificates, which can be redeemed for a future cruise of your choice. These certificates are essentially pre-paid cruise certificates that offer flexibility for the recipient to plan a trip at their convenience with the ability to upgrade or transfer their certificate, and no expiration date.
Certificates come in amounts of $50 USD, $100 USD, $250 USD, $500 USD, $1,000 USD, $1,500 USD, $1,700 USD and $2,000 USD.
Those purchasing the certificates can choose among a variety of Royal Incentive Rewards certificate levels for different cruise regions and itinerary lengths. Once the recipient is ready to redeem their certificate and book a cruise, they simply call the Royal Incentive Rewards Desk, and the cruise line will handle the rest.
Certificates can be purchased from your travel agent or at https://www.royalcaribbeancertificates.com.
Ever wondered what would happen if you walked off a cruise ship without paying your bill? The answer is you could end up in prison.
That's the fate of three New Yorkers who snuck off cruise ships earlier this year without paying for purchases.
The U.S. Virgin Islands' St. John Source reports that Sam Gross, 25, Joseph Herskovitz, 27, and Jacob Eisenberger, 29, were sentenced to up to three months in prison on Thursday for defrauding or conspiring to defraud cruise lines. The three men were also sentenced to several more months of home confinement after they are released from prison and must pay thousands of dollars in restitution.
The men boarded Majesty of the Seas earlier this year, and purposely ran up large bills by purchasing merchandise and services with their SeaPass Card, and then walked off the vessel after just a day without settling the tab.
Two of the three men then did something similar the following month on the Carnival Destiny and, a few weeks later, on the Dawn Princess, according to court documents cited by the St. John Source.
A fourth defendant in the case is scheduled to be sentenced in December.
An Italian blog has posted a rendering of what could very well be the design of the close guarded 'Project Sunshine' class ship. 
Although the rendering is surrounded by information hinting at its legitimacy, there is no solid proof that this is the actual design of Royal Caribbean's new class of ship. 
To celebrate the Olympic Games in London, we'll be running several cruise/sport related competitions on Twitter throughtout the Olympic season.
We'll be showcasing the various sport activities available on Royal Caribbean cruises, such as Rock Climbing and Ice Skating and thanks to Thanet Direct, we'll also be giving away luggage tags to lucky competition winners.
The first competition will start this Friday to celebrate the opening ceremony of the Games. We'll be asking a question and those who get the right answer will be entered into a random prize draw. Two people will win a Luggage Tag.
You can join in with the action using the hash tag #OceanOlympics
Cruise directors get asked some pretty ridiculous questions, so we've compiled a list of the silliest and dumbest questions ever asked by passengers on a cruise ship.
1. What would happen if I flushed the toilet while still sitting on it?
2. Does the crew sleep on board?
3. Why is the microwave in my room not working? (referring to the safe)

4. Is that fresh or salt water in the toilets?
5. What do you do with the ice carvings after they melt?

6. Has this ship ever sunk?

7. How small does your face have to be to get a mini-facial at the spa?

8. (Referring to the pictures in the Photo Gallery) How do I know which are mine?

9. What time does the Midnight buffet start?

10. Do these stairs go up or down?
Heard any more bonkers cruise questions? Comment below...
Ok, so when I heard this story, I got super excited!! Royal Caribbean has announced that it will add Coca-Cola's new Freestyle Machines aboard its ships. These self-serve beverage dispensers will offer passengers 100+ of different flavors of various Coke products in one machine.
The machines were customized for Royal Caribbean to allow for health code modifications in a marine environment as well as the addition of RFID (Radio Frequency Identification) for use with the Royal Caribbean soda packages.
The new Freestyle Machines were installed aboard Majesty of the Seas in June and several other ships (all based in the United States) will receive their machines later this year. Following that, the machines will be rolled out well into 2013 aboard other ships.
Royal Caribbean Director of Fleet Beverage Operations, Bob Midyette, described the new machine, "It was beyond sexy, it was über cool. Using medical micro dosing technology, flavor cartridges just slightly larger than those of the standard ink jet printer opened a world of flavors never available before. It was like going from an IBM series 700 mainframe to an iPhone 4, skipping everything in-between."
The machine features over 120 different flavors, some exclusive to the Freestyle Machine, such as Coca-Cola Orange and Peach Fanta.
Royal Caribbean will become the first cruise line to deploy the Freestyle machines.
Royal Caribbean International's new brand campaign is targeting New York-area commuters, both above and below ground, by taking over the 42nd Street S line in Manhattan this February. As commuters are transported between Times Square and Grand Central Station, the award-winning cruise line is giving them a taste of the Royal experience with fully-branded shuttle cars supporting the cruise line's new messaging. First rolled out in December 2011, the campaign is focused on reawakening consumers to the sights and sounds of the sea by communicating the decree, "The Sea is Calling. Answer it Royally."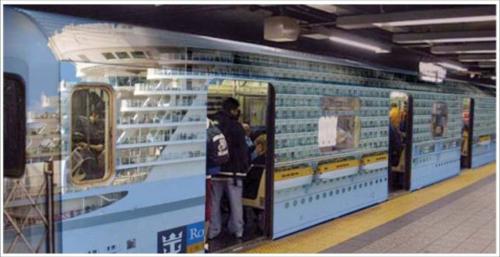 The subway cars, which are wrapped both inside and out, reflect actual Royal Caribbean cruise ships. The cars' interiors are each separately wrapped as an onboard theater featuring marquees of some of the Broadway shows guests can see onboard select Royal Caribbean ships such as Hairspray, Chicago and Saturday Night Fever; an onboard spa with bamboo showers and masseuse; as well as an open deck area complete with a Flowrider surf simulator and surfer. Each car conveys the options for entertainment, relaxation and adventure that can be enjoyed on a Royal Caribbean cruise vacation. Commuters, who will be treated to special surprises during the month, are encouraged to take photographs and videos to share with friends through their social media channels, tagging Royal Caribbean by using the specified hashtag #RoyalShuttle. Royal Caribbean also challenges fans to find "hidden treasures" in the shuttle artwork, including characters such as Shrek and Po from the cruise line's exclusive partnership with film studio powerhouse DreamWorks Animation.
For New York-area residents inspired to escape the hustle and bustle of daily life, Royal Caribbean offers convenient cruising options to Bermuda and the Caribbean out of Bayonne, N.J., and Baltimore, Md., onboard Explorer of the Seas and Enchantment of the Seas. Royal Caribbean's innovative onboard amenities, upscale accommodations, dining and entertainment are all delivered with the cruise line's signature Gold Anchor Service, all within a few-hours drive from home.
I would like to say a huge thank you to everyone who sent me a birthday message on Facebook, Twitter etc!
I had a fantastic birthday! I recieved many gifts, three of which cruise related, well sort of. Fisrt of all I recieved the fabulous new 2012 edition of the Berlitz guide to cruising. I also recieved a spectacular birthday card too and a delicious 'Oasis' cake!
I would also like to give a huge thanks to Mikey Faust! He has decorated his whole blog for my birthday, which I am very grateful for!
Royal Caribbean's marketing department have been busy transforming one of New York City's famous subway cars into a Royal Caribbean cruise ship!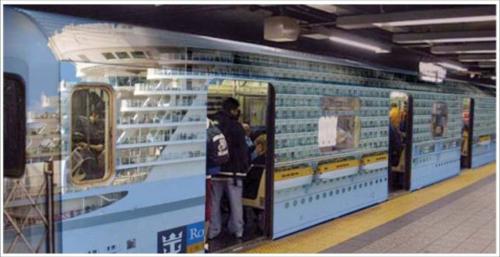 The ship advertisement has been added onto one of the New York City's subway cars and operates the Times Square Shuttle (S train)